Hotting up

for the summer
If you are looking to have your helmet painted then look no further. In association with Custom Racewear - MAD Designs paints unique & personal helmets for racers across the world. For more information please click on the MAD Designs logo & ask for Mike.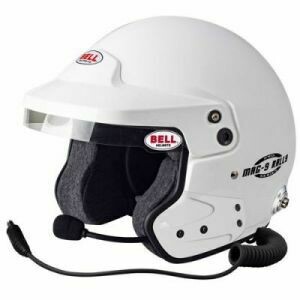 Bell Mag-9 Pro Rally Helmet
SKU 00023
Product Details
The rally version of the Mag-9 features a high-quality intercom system, soft ear cups with built-in ear protection and ultra-thin integrated speakers for maximum isolation. The adjustable boom incorporates a noise-cancelling microphone to ensure superior sound quality. The Mag-9 Rally combines a high-tech composite shell, sleek design with an adjustable and integrated visor peak to meet the needs of even the most demanding rally racer. The Mag-9 Rally can be used with Bell's patented half chin bar with anechoic chamber and integrated microphone to improve driver communications and reduce disturbances from environmental and road surface noise.
Ultra-lightweight carbon shell
Advanced multi-density, multi piece liner to maximize energy absorption and impact performance
Compatible with Bell's half chin bar (Acoustic Communication Device) available separately
Adjustable boom for perfect positioning of noise cancelling microphone to ensure superior sound quality and comfort
Incorporates ear cups with ultra-thin integrated speakers
Adjustable sun peak with anti-glare strip
Factory installed Hans posts as original equipment
Radio communication components optimized for use with Bell's rally amplifiers (analog and digital) and fully compatible with industry standard rally intercom systems
Available in two versions: with or without carbon half chin bar (Acoustic Communication Device)
Homologation: Snell SA2015 and FIA8859-2015 approved
Colour: White
Save this product for later